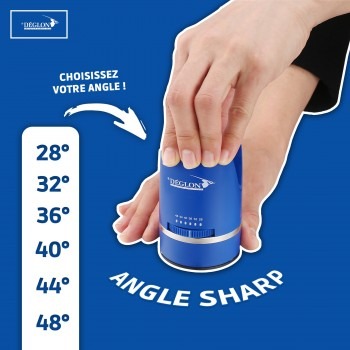 NEW ARRIVAL : the angle sharp manual sharpener!
Thanks to Angle Sharp, see life from a different angle!
This new manual suction cup sharpener with 6 adjustable angles will be ideal for your precision sharpening!
The following sharpening angles are available: 28° / 32° / 36° / 40° / 44° / 48° !
28° to 32°: for sharpening paring knives and filleting knives (preparation of fruit, vegetables, fish)

36 to 40°: mainly for meat knives, pocket knives

44 to 48°: for sharpening cleavers, daggers
The angles indicated are the complete angles between the 2 sides of the blade.
This compact sharpener will offer you unparalleled safety and stability thanks to its integrated suction cup!