Knife making know-how
DÉGLON, LIFETIME-GUARANTEED TOOLS
According to our vision, a knife is totally accomplished and relevant only if it lasts in time.
To meet this requirement, our technical teams give priority to the following 4 bases:
Select the best steels
Achieve the best heat treatment
Adapt the blade profile and thickness to each use
Choose and implement the best sharpening angle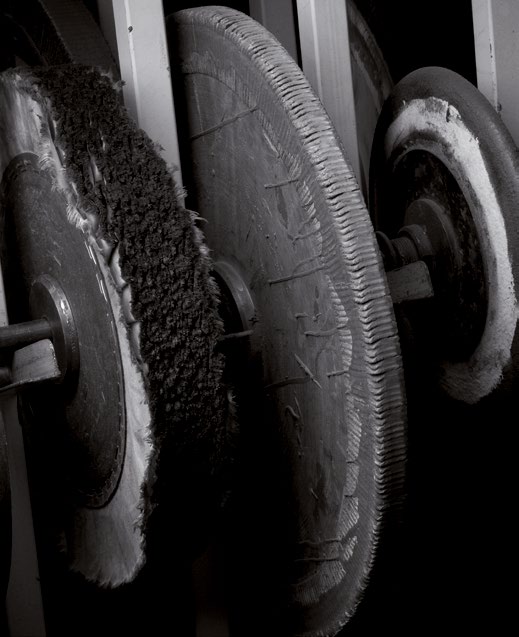 SELECT THE BEST STEELS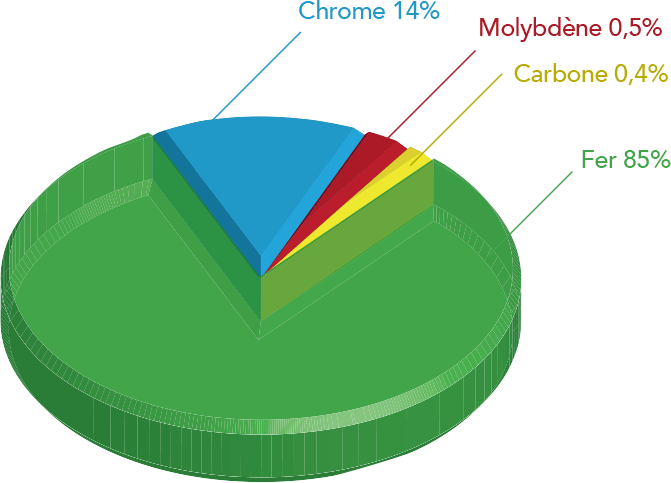 Great technological advances have made available stainless steels which are more and more efficient in terms of cutting strength, corrosion resistance and flexibility.
A good cutlery steel generally contains 85% iron, 13 to 15% chromium (anti-corrosion agent), about 0.4% carbon (determining factor for the hardness o the blades).
Other components such as molybdenum, vanadium and nickel, can be added in very small amounts to improve corrosion resistance or the cutting edge lifetime.
FORGED BLADE? CUT BLADE?
Since the beginning of metalworking, knife blades have always been forged. Forging is the operation which consists in hot transforming a metal part called "crampon", by successive crushing (in kinds of adapted moulds) into an elaborate part in which the final part will then be cut.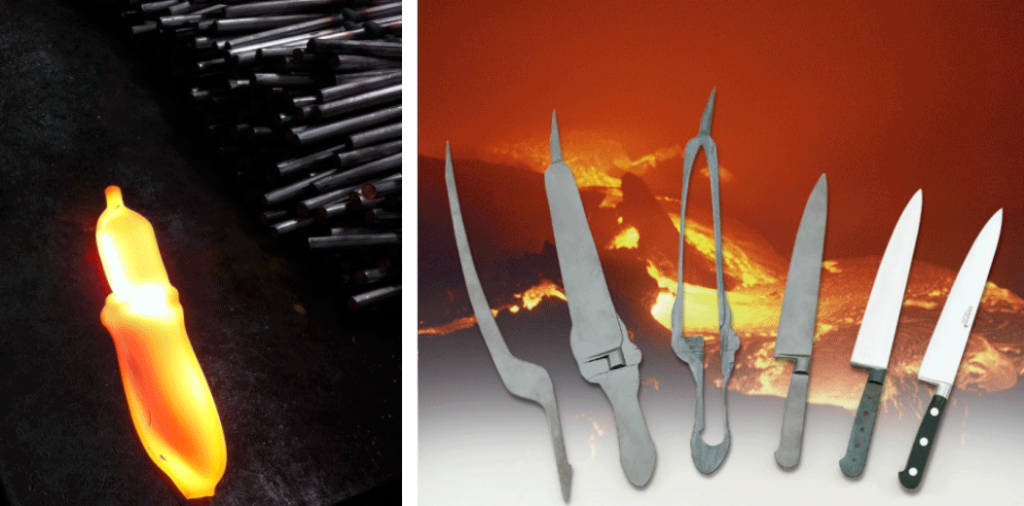 However, since the appearance of rolling techniques (crushing the metal between two rolls very close to each other), in the 1920's, the manufacture of cut blades has developed. This modern process provides blades of a great regularity and at lower cost, while guaranteeing excellent mechanical and cutting qualities.
Many professional knives are still produced with forged blades (Grand Chef), with a bolster located between the blade and the handle which ensures the knife's robustness and styling.
So, with or without bolster?
According to our previous writings, it is therefore mainly a criterion of aesthetic appreciation that will be decisive.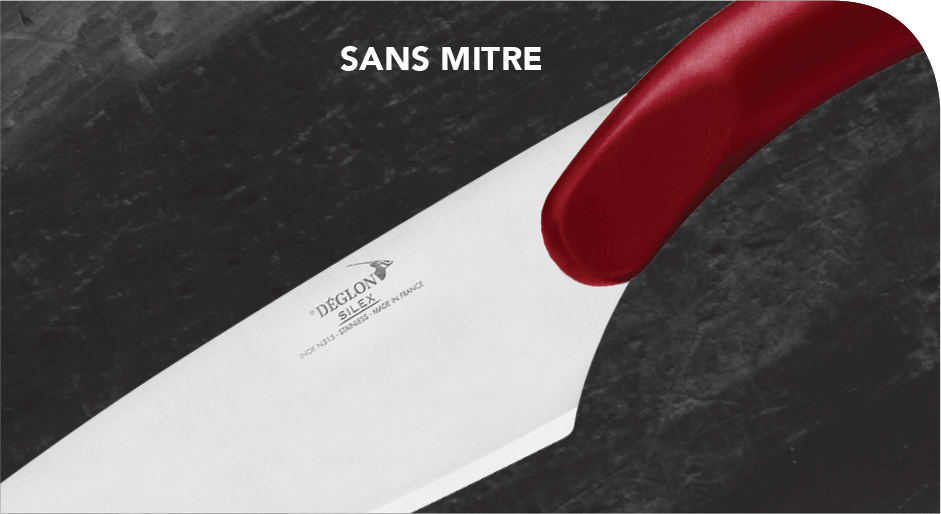 THE TANG: FULL TANG, SEMI-TANG?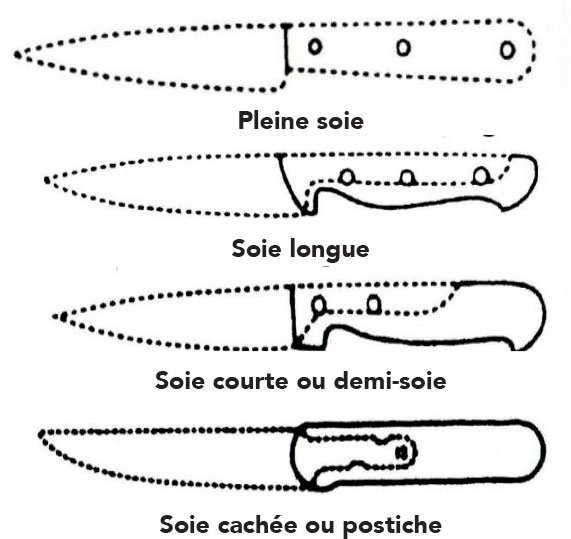 The tang is the extension of the blade into the handle. A knife whose tang extends the whole length of the handle is a criterion of quality and robustness. However, the development of overmoulding techniques and the improvement of plastics also fully ensure robustness, with all kinds of tangs.
THE HEAT TREATMENT
QUENCHING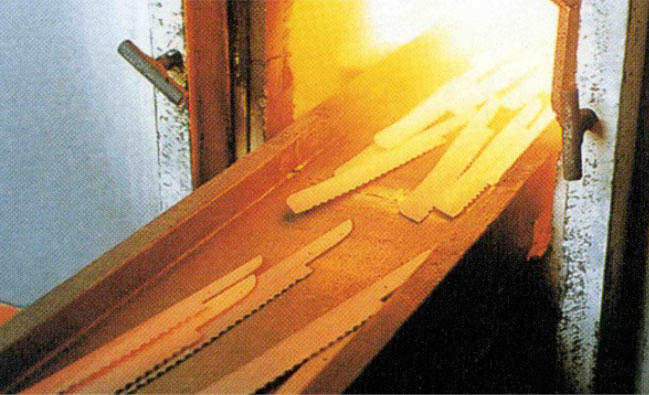 Quenching consists in heating steel to about 1040°, then cooling it rapidly, taking the blade's hardness to a higher level.
A second heating to about 200° (called "temper") followed by a slow cooling provides blades that:
have perfect resistance to shocks, and corrosion,
are hard, with suitable cutting power and lifetime.
CAN A STAINLESS STEEL BLADE BECOME RUSTY?
To be able to cut well and for a long time, a cutlery steel must contain carbon. Despite all the precautions taken during the manufacture, it is impossible to guarantee a total corrosion resistance.
In contact with a saline medium, with a wrong setting of the dishwasher, or in the presence of water with a low pH, lower than 7 (like some products: mustard, vinegar, cola…) or some liquids, small oxidation spots can appear on the blade.
We advise you not to leave your tools in contact with moisture and food. Dry them well after use. In case of small marks, you can rub the blade gently with a jex pad.
ABOUT CERAMIC BLADES
In the last few years, the manufacture of ceramic blades has made considerable progress.
A ceramic knife does not cut any better than a good knife with a steel blade. However its texture being harder than steel, its lifespan will be longer.
Please note:
Its re-sharpening is not easy
Bones can notch the cutting edge
Falls should be prevented as they can break the blade
ADAPT THE BLADE PROFILE AND THICKNESS TO EACH USE
Examples of blade profiles:
[A] Example of short and rigid blade (14cm) for boning. The back is rather thick (approximately 2.10-2.30mm) up to 3cm of the knife point, 'to be more robust and resistant (with bones).
[B] Example of knife blade for filleting (17cm). The back is rather thin (0.8-1.3mm approximately), and is gradually decreasing over the entire length of the blade, to ensure flexibility.
[C] Example of knife blade for slicing thinly (25cm). The thickness is intermediate over the entire length of the blade (2-2.4mm approximately) and up to 4cm of the knife point.
CHOOSE AND IMPLEMENT THE BEST SHARPENING ANGLE
which will give the best cut from its first use, with a longevity often above the average of most major international brands.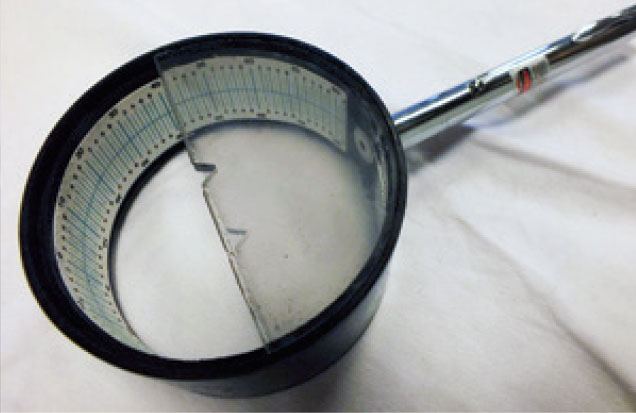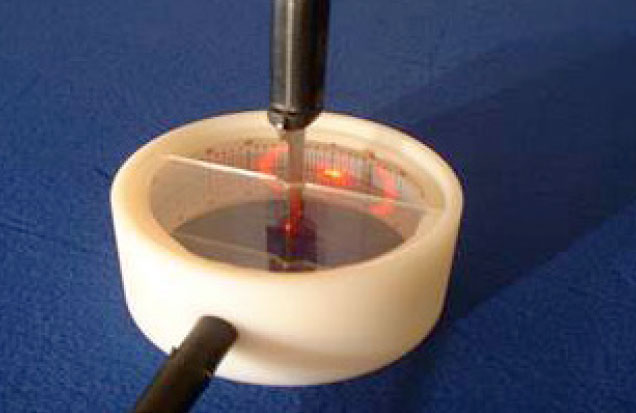 For a controlled and efficient cutting duration.
Déglon is one of the few knife manufacturers in the world to be equipped with a standardized machine for controlling the cutting power. We use this approach to improve our performance.
After a standardized process (60 runs), the cutting test machine gives results on:
the ICP (Initial Cutting Power) which measures the cutting capacity of the blade when the knife is new (the first three runs)
the TCC (total of card cut) which measures the durability of the edge in time (addition of 60 runs)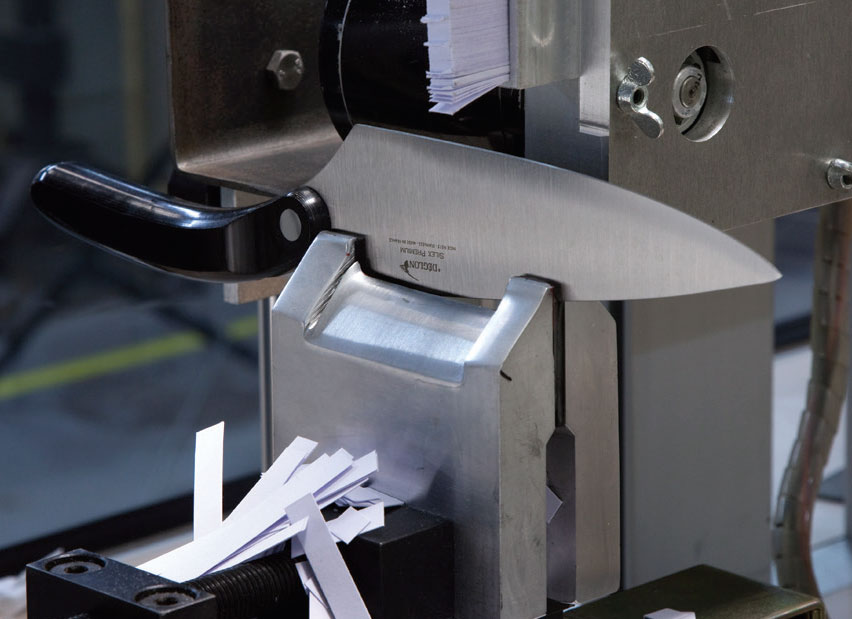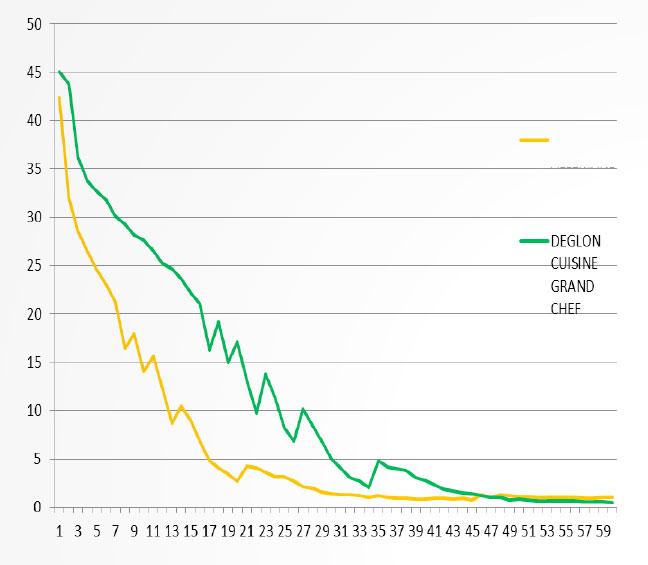 On this drawing, the green line represents Déglon's 20cm forged GRAND CHEF knife.
after 3 runs, the knife cut 77mm
after 60 runs, the knife cut 380mm
after 60 runs, the knife cut 380mm The yellow line is a competitor's knife.
Once the optimal cutting time has been achieved, other qualitative criteria are targeted according to usage, both for knifes and for our other culinary tools (spatulas, decozest, etc.) in particular:
Blade qualityperfect polishing finish, resistance to corrosion, resistance to torsion
The quality of the handlesergonomics, choice of materials, resistance to dishwasher, sterilization, UV, impact and quality of press-fitting resistance
HANDLES: MATERIALS, DESIGN AND ERGONOMICS
The main quality and selection criteria for handle definition are
Adapted ergonomics
Dish-washer safe, resistance to sterilization, to impact
Quality of handle-blade fitting stability
THE HANDLE: WOOD OR THERMOPLASTIC?
Many people are still fond of wooden handles, adepts of its aesthetic qualities and its "touch"
However, with the use of plastic injection, which reduced manufacturing costs, we have been able to more easily make user-friendly and original shapes.
And the growing hygiene standards have been met thanks to overmoulding, which eliminates any gaps at the blade / handle junction.
THE MAIN PLASTICS
ABS, polypropylene, polyamides or POM are excellent materials commonly used in DEGLON tools.
NEW ACRYLIC BASED MATERIALS (Corian type)
Comparable to marble for their hardness and beautiful colours, they offer excellent resistance to impact, stains, UV and bacteria. We advise you to carefully wash them by hand with hot water.
LIFETIME WARRANTY
ADHERENCE TO ALL THESE CRITERIA ALLOWS
US TO OFFER OUR CUSTOMERS
A LIFETIME* GUARANTEE
ON DÉGLON PRODUCTS.
* (Under'normal product use).
Our knives, scissors, spatulas, and service, preparation, and decoration tools… have a lifetime warranty.
Some additional products have specific warranty periods:
the cases, Degsharp and Push&Pull range are guaranteed 3 years.
the ranges of wooden accessories and the electronic tools are guaranteed 1 year.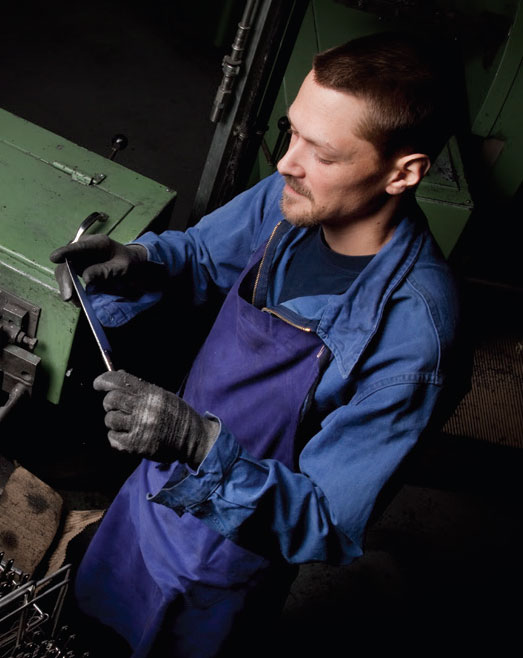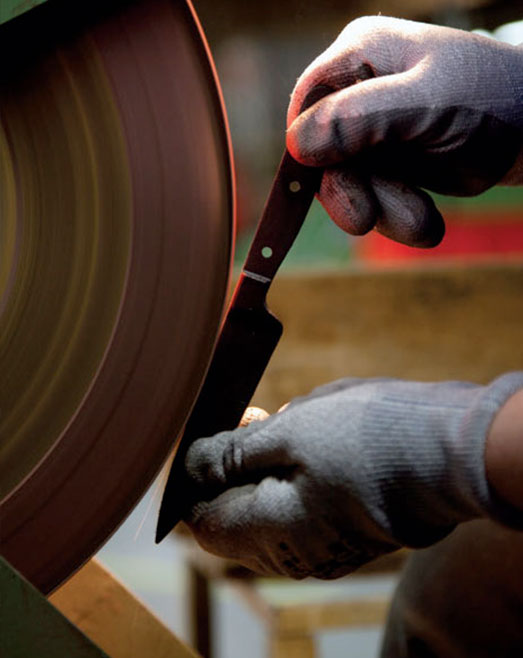 In the exceptional case of products "out of warranty" (due to abnormal use of the product):

Déglon undertakes, via its workshop, to offer a repair of the products concerned (with similar materials or equivalent in case of discontinuation of the original reference) for a period of 10 years.
The cost of repairing the tool will amount to a maximum of 25% of the PVC price (including VAT) of the product for each element repaired (handle / blade, etc.).
Please consult us if necessary.